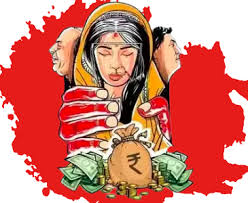 Dowry System: The Curse of Materialistic Demands and Bride Burning
Marriage is a sacred bond that should be based on love, trust, and mutual respect. However, in many parts of the world, including India, this beautiful institution is marred by a dark practice known as the dowry system. The dowry system involves the giving of gifts, cash, or property by the bride's family to the groom and his family. In this blog, we explore the origins, consequences, and efforts to combat the dowry system, shedding light on the distressing reality of materialistic demands and the tragic phenomenon of bride burning.
Origins and Social Factors
The dowry system in India has its roots in historical and social factors. In the past, dowry was seen as a form of economic security for the bride, as she would move into her husband's family and be dependent on them. Over time, the practice evolved, fueled by societal expectations, gender inequalities, and economic considerations.
Social norms and gender roles play a significant role in perpetuating the dowry system. The patriarchal nature of many societies places a higher value on sons and assigns them greater economic power and status. This, in turn, leads to the expectation that the bride's family should provide material wealth as a form of compensation for the privilege of marrying their daughter.
Consequences and Bride Burning
The dowry system has severe consequences for brides and their families. The materialistic demands and financial burden often lead to exploitation, emotional trauma, and financial strain. Brides may face harassment, abuse, and even violence from their husbands and in-laws if the dowry is considered insufficient or if additional demands are made.
One of the most devastating consequences of the dowry system is bride burning, also known as dowry death. In extreme cases, when the demands for dowry are not met, brides are subjected to physical violence or burned to death. These heinous acts, committed by husbands and their families, highlight the tragic consequences of a system that places monetary value on a woman's worth.
Efforts to Combat the Dowry System
Recognizing the destructive impact of the dowry system, efforts have been made to combat this harmful practice. Legislation has been enacted in many countries, including India, to prohibit the giving and receiving of dowry. In India, the Dowry Prohibition Act was passed in 1961 to address the issue and protect women from dowry-related violence.
Community awareness programs, education, and social initiatives have played a crucial role in challenging the dowry system. Empowering women through education and economic opportunities helps shift the power dynamics and reduces their dependence on dowry-related expectations. Promoting gender equality, changing societal mindsets, and encouraging open discussions about dowry-related issues are key in addressing this deeply rooted problem.
Conclusion
The dowry system perpetuates a culture of materialism, gender inequality, and violence against women. It is a practice that tarnishes the sanctity of marriage and places an unfair burden on brides and their families. Bride burning is a tragic consequence of this system, highlighting the urgent need for its eradication.
Addressing the dowry system requires collective action and a societal shift in attitudes and values. By promoting gender equality, providing education and economic opportunities for women, and enforcing laws against dowry-related crimes, we can strive to eliminate this harmful practice. Let us work towards a society where marriages are based on love, respect, and equality, free from the curse of the dowry system and the tragic consequences it brings.
Author

Nishita Khanna

(The images used in this podcast are not owned by Anime Devta, they are just to help the readers)