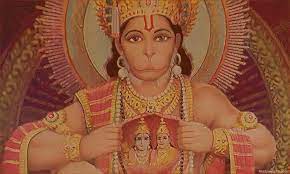 Lord Hanuman: The Devotee of Lord Rama
In the pantheon of Hindu deities, Lord Hanuman stands out as an embodiment of unwavering devotion, loyalty, and strength. Revered as the divine monkey god, Hanuman's life and exploits revolve around his deep devotion to Lord Rama, making him an inspiring symbol of devotion and selfless service. Let's delve into the remarkable story of Lord Hanuman and his extraordinary devotion to Lord Rama.
The Birth of Hanuman
Hanuman's birth is a tale of divine intervention and destiny. According to Hindu mythology, he was born to Anjana and Kesari, both devoted to Lord Shiva. Hanuman's birth was the result of the blessings of several deities, including Lord Shiva, Lord Vishnu, Lord Brahma, and others. He was born with the divine gift of immense strength, agility, and the ability to change his size at will.
Hanuman's Role in the Ramayana
The epic Ramayana, attributed to the sage Valmiki, chronicles the life and adventures of Lord Rama, an avatar of Lord Vishnu, and his journey to rescue his wife, Sita, from the demon king Ravana. Hanuman's devotion to Lord Rama takes center stage in this epic.
Meeting Lord Rama: Hanuman first encountered Lord Rama and his brother, Lord Lakshmana, in the forest during their exile. Recognizing Rama as an incarnation of Lord Vishnu, Hanuman pledged his undying devotion and loyalty.

The Leap to Lanka: When Sita was kidnapped by Ravana and taken to Lanka, Lord Rama and Lakshmana were in despair, unsure of her whereabouts. Hanuman, guided by his devotion and love for Rama, performed an incredible feat by leaping across the ocean to reach Lanka and find Sita.

Carrying the Mountain: To heal Lord Lakshmana, who had been gravely injured in battle, Hanuman was sent to retrieve the life-restoring herb "Sanjivani" from the Himalayas. Unable to identify the specific herb, he lifted the entire mountain and brought it to the battlefield in time to save Lakshmana.

Burning Lanka: In a heroic effort, Hanuman set fire to Lanka with his burning tail as a distraction, allowing Lord Rama and his army to launch their final assault on Ravana.
Devotion and Service
Hanuman's devotion to Lord Rama is a shining example of selfless service, humility, and love. His unwavering commitment to fulfilling Rama's wishes and serving him in every capacity illustrates the ideal relationship between devotee and deity in Hinduism.
Chiranjeevi (The Immortal): Hanuman is believed to be immortal, blessed with longevity and eternal youth, a testament to his devotion and service.

Chanting of the Hanuman Chalisa: The Hanuman Chalisa, a hymn composed by Tulsidas, is a popular and powerful devotional prayer dedicated to Lord Hanuman. It is recited by millions of devotees to seek his blessings and protection.

Temples and Festivals: Hanuman temples can be found throughout India and beyond, with the most famous one being the Hanuman Temple in Varanasi. Hanuman Jayanti, his birthday, is celebrated with great enthusiasm across the country.
Conclusion
Lord Hanuman's devotion to Lord Rama and his unparalleled acts of service make him a revered and beloved figure in Hinduism. His life and devotion teach us the value of selfless service, unwavering loyalty, and the power of faith in the divine. Hanuman's legacy continues to inspire millions of devotees to strive for devotion, humility, and service in their own lives, emphasizing that true devotion knows no bounds and can overcome any obstacle, just as Hanuman leaped across the ocean to serve his beloved Lord Rama.