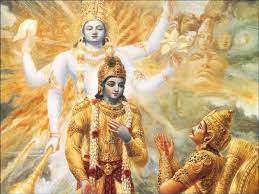 Krishna's Role in the Bhagavad Gita: Understanding His Guidance on Dharma and Duty
The Bhagavad Gita, often referred to as the "Song of the Divine," is a timeless spiritual text that contains the profound teachings of Lord Krishna to Arjuna on the battlefield of Kurukshetra. At the heart of this dialogue lies Krishna's guidance on the concepts of dharma (righteousness) and duty. As the supreme charioteer and divine mentor, Krishna imparts wisdom that transcends time, offering invaluable insights into how to navigate the complexities of life. Let's delve into Krishna's pivotal role in the Bhagavad Gita and understand the significance of his teachings on dharma and duty.
Krishna as the Supreme Guide
Lord Krishna, revered as the eighth incarnation of Lord Vishnu, assumes the role of Arjuna's charioteer on the battlefield. This seemingly humble position conceals his divine identity, symbolizing his willingness to guide and support humanity in times of moral dilemma and crisis. Krishna's compassion, wisdom, and profound understanding of the universe make him the perfect mentor for Arjuna and a universal guide for all seekers.
Dharma and Duty Defined
As the battle of Kurukshetra looms, Arjuna is overwhelmed by moral confusion and refuses to participate. In response, Krishna imparts the essence of dharma and duty, clarifying their meanings and implications.
1. Dharma: Krishna explains that dharma is not just a set of prescribed rules, but a universal law that governs the order and balance of the cosmos. Dharma extends beyond caste or role and encompasses righteousness, duty, and moral responsibility.
2. Duty (Karma): Krishna emphasizes performing one's duty without attachment to the results. He encourages Arjuna to fulfill his warrior duty, reminding him that renouncing action is not a solution. Instead, performing actions with dedication and detachment leads to spiritual evolution.
Teachings on Dharma and Duty
Krishna's teachings on dharma and duty are profound and timeless, offering guidance to individuals across generations:
1. Upholding Righteousness: Krishna stresses the importance of standing up for righteousness, even in the face of challenges. Dharma must prevail over personal desires and attachments.
2. Duty and Selflessness: Krishna teaches that duty should be performed selflessly, without attachment to the outcomes. Detachment ensures that one's actions remain untainted by ego.
3. Balancing Roles: Krishna explains that different roles in life come with distinct duties. Being a warrior, Arjuna's duty is to fight, while others have different responsibilities in their respective roles.
4. Equanimity: Krishna advises maintaining equanimity in success and failure, pleasure and pain. By transcending dualities, one can achieve mental peace and inner stability.
5. Transcending Material Desires: Krishna teaches that by dedicating actions to the divine and practicing selfless service, individuals can overcome material desires and move towards spiritual liberation.
Conclusion: Eternal Wisdom for Modern Life
Krishna's teachings in the Bhagavad Gita transcend time and culture, offering universal insights into the complexities of human existence. His guidance on dharma and duty urges individuals to embrace their responsibilities with selflessness, integrity, and devotion. In the modern world, where ethical dilemmas and moral quandaries abound, Krishna's wisdom remains a guiding light, illuminating the path of righteousness and spiritual growth. By internalizing his teachings and applying them to our lives, we can navigate challenges with clarity, make informed decisions, and lead a life rooted in purpose, integrity, and love for the greater good. Just as Arjuna found solace and guidance in Krishna's words, so too can we find direction and solace in the enduring wisdom of the Bhagavad Gita.