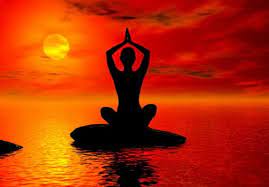 The Philosophy of Bhakti Yoga: Devotion and Surrender as Taught by Lord Krishna
Bhakti Yoga, often referred to as the path of devotion, is a spiritual practice that emphasizes the power of unwavering love, devotion, and surrender to the divine. Rooted in the teachings of Lord Krishna, as expounded in the Bhagavad Gita, Bhakti Yoga is a transformative path that guides seekers toward a profound connection with the divine, nurturing a relationship of love and intimacy. Let's delve into the philosophy of Bhakti Yoga and uncover the timeless wisdom it offers.
Understanding Bhakti Yoga
Bhakti, derived from the Sanskrit word "bhaj," means to adore, worship, and love with utmost devotion. Bhakti Yoga is centered around cultivating a deep emotional and spiritual connection with the divine, often personified as a deity or formless energy. Unlike other paths of yoga that emphasize control of the mind or body, Bhakti Yoga is a surrender of the heart.
Teachings of Lord Krishna in the Bhagavad Gita
In the Bhagavad Gita, Lord Krishna imparts profound insights into the essence of Bhakti Yoga. He emphasizes that genuine devotion is characterized by selfless love, humility, and unwavering faith. Krishna encourages Arjuna—and all seekers—to offer their actions, thoughts, and emotions to the divine, transcending personal desires and attachments.
1. Selfless Devotion: Krishna teaches that true Bhakti arises from a place of selflessness. When devotion is free from selfish desires and expectations, it becomes a pure expression of love for the divine.
2. Surrender: Krishna emphasizes the importance of surrendering the ego and the results of actions to the divine will. This surrender allows one to transcend the dualities of success and failure.
3. Unwavering Faith: Bhakti Yoga is founded on unwavering faith and trust in the divine. Trusting that the universe is governed by a higher power brings solace and removes anxieties.
4. Love and Compassion: Krishna teaches that love and compassion are at the core of Bhakti Yoga. Loving the divine unconditionally, and seeing all beings as manifestations of the same divine energy, leads to a deeper understanding of interconnectedness.
5. Divine Remembrance: Constantly remembering the divine, regardless of one's actions or circumstances, is central to Bhakti Yoga. This practice transforms daily activities into acts of devotion.
Benefits of Bhakti Yoga
Bhakti Yoga offers numerous benefits to practitioners:
1. Emotional Fulfillment: Devotion brings a profound sense of emotional fulfillment, allowing practitioners to experience love, joy, and contentment.
2. Stress Relief: Surrendering worries and anxieties to the divine alleviates stress, leading to inner peace and mental well-being.
3. Transcendence of Ego: Bhakti Yoga helps dissolve the ego, enabling individuals to see beyond themselves and embrace a broader perspective.
4. Inner Transformation: The practice of devotion fosters inner growth, enabling individuals to overcome negative traits and cultivate virtues.
5. Connection and Unity: Bhakti Yoga creates a sense of connection with others, promoting unity and fostering a feeling of belonging.
Conclusion: Embracing the Path of Love and Surrender
Bhakti Yoga, as taught by Lord Krishna, is a profound invitation to experience the divine through love, devotion, and surrender. It teaches us that spirituality is not confined to rituals and practices, but is a way of life that infuses our actions, thoughts, and emotions with divine consciousness. By cultivating unwavering devotion, humility, and love, we embark on a transformative journey that leads to union with the divine and a deep understanding of the interconnectedness of all existence. Bhakti Yoga is a timeless path that transcends cultural and religious boundaries, offering solace, purpose, and fulfillment to all who embrace it.