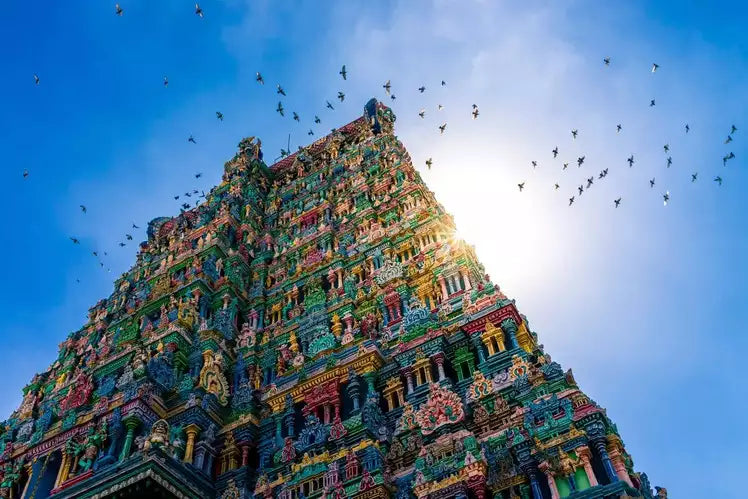 The Magnificence of Hindu Temple Architecture
The architecture of Hindu temples has evolved over centuries, influenced by various dynasties, regions, and artistic styles. Hindu temples are known for their intricate designs, symbolic elements, and spiritual significance. While there are numerous regional variations, the major components and architectural styles can be categorised into Nāgara, Drāvida, and Vesara.
The Nāgara style of temple architecture, predominantly found in northern India, is characterised by its tall and curvilinear shikhara or spire. The temples are often constructed in a four-sided plan, with the garbhagriha (sanctum sanctorum) as a perfect square. The mandapa serves as a portico or assembly hall for worshipers. In early stages, the temple roofs were flat, but later they evolved into pyramidal shikharas. Additional structures, such as mandapas and pradakshinapatha (circumambulatory path), were added over time. The Nāgara style showcases intricate stone carvings, depicting deities, mythical creatures, and daily life scenes.
The Drāvida style of temple architecture, predominantly found in southern India, is characterised by towering gopurams (gateway towers) and tiered vimanas. The garbhagriha is usually square or rectangular, while the vimana above it is pyramidal in shape and intricately decorated. Drāvida temples often have multiple prakarams or concentric enclosures around the garbhagriha. The mandapas, supported by elaborate pillars, serve as assembly halls. The walls are adorned with sculptural panels depicting deities and mythological stories. The Drāvida style emphasises intricate stone carvings and elaborate architectural elements.
The Vesara style of temple architecture emerged as a fusion of Nāgara and Drāvida styles during the mediaeval period in the Deccan region. Vesara temples exhibit a diverse range of architectural elements and can vary significantly in their design and layout. They often combine the towered vimanas of Drāvida temples with the intricate carvings and sculptures of Nāgara temples, resulting in unique and eclectic structures.
Temples hold a significant place in religious and cultural practices, serving as places of spiritual solace, community gatherings, and worship. They are believed to be the dwelling places of deities and are sanctified through purifying rituals. People visit temples to seek blessings, confess their misdoings, and find spiritual guidance. The serene and sacred ambiance of temples, coupled with their architectural beauty, fosters a sense of inner peace and connection with the divine.
The symbolic significance of temples is reflected in their architectural elements. Intricate carvings, paintings, and sculptures convey spiritual concepts and depict stories from mythology. Temples often act as community centres, bringing people together for religious festivals and cultural events, promoting unity and shared spirituality.
In conclusion, Hindu temple architecture is diverse and rich in symbolism. The Nāgara, Drāvida, and Vesara styles represent different regional and historical influences. Temples are considered the holiest places of worship, providing a sacred space for devotees to connect with the divine, seek solace, and deepen their spiritual understanding. The beauty and significance of Hindu temples lie not only in their architectural grandeur but also in the devotion and reverence they inspire in believers.
By Mamta Rajbhar
(The images used in this blog post are not owned by Anime Devta, they are just to help the readers)